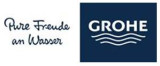 Multimedia content

Videos

(1)

GROHE Design 2017 Highlights

Images

(2)

GOLD for GROHE: outstanding series at the iF Design Award (1)
GOLD for GROHE: outstanding series at the iF Design Award (2)

Documents

(1)

iF Awards Highlights 2018
Source: GROHE |
GOLD for GROHE: outstanding series at the iF Design Award
GROHE received no less than five iF Design awards at the annual celebration of design excellence
GROHE products, regardless of style, are always easy to use, intuitive and provide a high level of performance
DUSSELDORF, Germany, March 19, 2018/APO Group/ --
Two Gold Awards for GROHE Sense Guard "a brilliant solution against water damage" and GROHE Essence Professional, a kitchen faucet that impressed the jury with its "clever mix of different materials and colors".
Another five iF Design Awards make this year's participation of GROHE at the prestigious competition a great success.
GROHE's design team continues their winning streak from the record year of 2017.
GROHE (www.GROHE.com), the world's leading provider of sanitary fittings, has received a record number of awards at this year's iF Design Awards 2018 – one of the world's most celebrated and valued design competition. Two products of GROHE even received the Gold Award, one of the globally most recognised trademark for excellence in design. Another five iF Design Awards underline the design excellence at GROHE. The official awards ceremony, with around 2,000 guests, took place on Friday, 9 March at the BMW Welt in Munich.
Gold for GROHE's intelligent water control unit
One of the GROHE products to garner the prestigious iF Gold Award was the GROHE Sense Guard. The jurors were impressed, above all, with the "elegant design and user-friendly interface" of this intelligent water control unit for the Smart Home. In the jurors' estimation, "exceptional functionality paired with a minimalist exterior" produced a "brilliant solution for avoiding all kinds of water damage".
Kitchen faucet GROHE Essence Professional also receives a Gold Award
The second iF Design Gold Award was won with GROHE Essence Professional. This delicately designed kitchen faucet for professional use is available with a silicon hose in around a dozen colors. The iF Design Award jurors emphasised the "intelligent mix of different materials and colors of the high-quality product" and announced: "This is a high-end professional product that is joyful to use, with material quality you can feel."
Another five awards round out the successful participation at the iF Design Award
In addition to the outstanding recognition via the Gold Awards, GROHE received no less than five iF Design awards at the annual celebration of design excellence: for the Concetto professional kitchen tap, the shower control Smart Control Round, the water sensor GROHE Sense, the bathroom faucet Lineare New Collection and the brand film GROHE Design Showreel.
Outstanding recognition of the GROHE design
"My team and I are very happy about this outstanding recognition of our work", says Michael Seum, Vice President of Design for GROHE. "Looking back on a very successful year for the GROHE design in 2017 (https://goo.gl/TVt2KS), this highly appreciated recognition proves to us yet again that GROHE pursues its design philosophy with the greatest success. What's more, GROHE products, regardless of style, are always easy to use, intuitive and provide a high level of performance."
GROHE continues its winning streak of design prizes
In 2017, the world's leading provider of sanitary fittings won 62 design awards – more prizes than it had ever won before. These awards included five Red Dot Design Awards (Europe), three Good Design Awards (Japan) and the International Design Excellence Award (USA). All in all, GROHE participated in 17 international design competitions in 2017. And in 2018, the GROHE design team is continuing its winning streak. GROHE has already won more than a dozen design prizes in the current year.
More than 6,000 entries for the iF Design award
For 65 years, the iF Design Award has been a globally recognized trademark for excellence in design. With 6,402 entries from 54 countries, the iF Design Award has seen a record number of submissions in this anniversary year. Never before have so many products and designs been entered into the competition. The members of the jury faced a difficult task.
More information at
Please find all press materials to download here: https://goo.gl/Nmvght
Distributed by APO Group on behalf of GROHE.
GROHE
Feldmühleplatz 15 • 40545 Düsseldorf • Germany • Phone: +49(0)211/9130-3030 • www.GROHE.com
Media Contact
Chief Communications Officer
Thorsten Sperlich
E-Mail: Media@GROHE.com
Press Office
Edelman.ergo GmbH
Agrippinawerft 28, 50678 Cologne, Germany
Phone: +49 (0)221 912887-24 | Fax: +49 (0)221 912887-77
M: GROHE@Edelmanergo.com | W: www.Edelmanergo.com
About GROHE
GROHE (www.GROHE.com) is the world's leading provider of sanitary fittings and has a total of over 6,000 employees, 2,400 of which are based in Germany. GROHE has been part of the LIXIL Group Corporation since 2014. As an international brand, GROHE pursues the brand values of technology, quality, design and sustainability, seeking to offer the "Pure joy of water". GROHE has been developing new product categories since its inception. This includes the GROHE Blue and Red water systems and the recently-introduced GROHE Sense water security system, which is an innovative component in the growth market of smart home technology. Innovation, design and development are closely aligned with one another and are enshrined in the German site as an integrated process. As a result, GROHE products carry the seal of quality "Made in Germany". In the last ten years alone, GROHE has received over 300 design and innovation awards as well as several top rankings as one of "Germany's most sustainable large brands", confirming the success of the brand. GROHE was the first in its industry to win the German government's CSR prize and was also featured in the renowned Fortune® magazine's ranking of Top 50 that are "Changing the World".
About LIXIL Corporation
LIXIL is a global leader in the housing and building industry. Our unique portfolio spans everything from technologies that revolutionize how we interact with water in our daily lives, to a full lineup of products and services for houses and major architectural projects. Delivering core strengths in water, kitchen, housing, and building technologies, our brands including LIXIL, INAX, GROHE, American Standard, and Permasteelisa are leaders in the industries and regions in which they operate. LIXIL operates in more than 150 countries and employs more than 70,000 people, bringing together function, quality, and design to make people's lives better and more delightful – wherever they are. Learn more at www.LIXIL.com, www.Facebook.com/lixilgroup and www.LinkedIn.com/company/lixil-group.