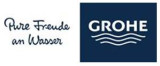 Multimedia content

Images

(4)

GROHE takes shower design to a new level with the GROHE SmartControl Concealed in combination with the GROHE Rapido SmartBox (1)
GROHE takes shower design to a new level with the GROHE SmartControl Concealed in combination with the GROHE Rapido SmartBox (2)
GROHE takes shower design to a new level with the GROHE SmartControl Concealed in combination with the GROHE Rapido SmartBox (3)
GROHE takes shower design to a new level with the GROHE SmartControl Concealed in combination with the GROHE Rapido SmartBox (4)
Source: GROHE |
GROHE takes shower design to a new level with the GROHE SmartControl Concealed in combination with the GROHE Rapido SmartBox
With an installation depth of only 75 mm, the GROHE Rapido SmartBox fits into every kind of wall, even particularly narrow ones.
LAGOS, Nigeria, February 16, 2018/APO Group/ --
GROHE (www.GROHE.com), a world leading German brand in sanitary fittings has launched the exceptionally "slim" duo: GROHE SmartControl Concealed in combination with the new GROHE Rapido SmartBox allowing planners and installers to use typically very limited shower space as effectively as possible. Thanks to the concealed technology behind the wall and elegant ultra slim design with only 43 mm outreach on the wall, GROHE SmartControl Concealed makes for additional space in the shower. The new SmartControl models are controlled with the same self-explanatory push and rotary knob technology and are available in square or round designs as well as in chrome or moon white finishes. By combining the new two-stream Rainshower 310 SmartActive showerheads, the ideal solution is available for every bathroom ambience and every installation situation.
Simply smarter: GROHE SmartControl – all the advantages in front of the wall
The slim, elegant look of the GROHE SmartControl Concealed models is immediately apparent. Only at second glance will the numerous functional features become evident behind the aesthetic design and the elegant knobs. The advantages:
One for all! Until now, for the operation of a hand spray and a showerhead with two types of spray modes, two rough-ins and two mounting kits were necessary. With the GROHE Rapido SmartBox and the GROHE SmartControl Concealed models these can now be operated simultaneously with only one rough-in and one mounting kit. This allows the control of up to three shower or bath filler functions with only one trim.
Push, rotate, and take a shower! The SmartControl user interface not only presents a visual statement, it can also be operated intuitively. In addition to the simple control of the different spray modes – by pushing a knob, you can start or stop your desired spray mode – the volume controller integrated in GROHE SmartControl also allows precise control of the water volume. Simply rotate the knob. The SmartControl knobs are supplied with clearly and easily recognizable symbols for the different shower or bath options.
Ultra slim design! The GROHE SmartControl Concealed models project only 43 mm from the wall regardless of the installation depth of the rough-in and the GROHE SmartControl wall plate is only 10 mm deep. Thus, they make for a clean and modern appearance and provide comfortable room to move while in the shower. The integrated sealing system completely eliminates any water behind the wall.
Simply easier: GROHE Rapido SmartBox – all the advantages behind the wall
The GROHE Rapido SmartBox carries its name with good reason – it is full of innovative, sophisticated details and adapts to all projects. The advantages:
Less installation effort at lower costs! The GROHE Rapido SmartBox has three outlets for a wider range of showering options, for which previously two rough-ins were necessary. In addition, the GROHE Rapido SmartBox makes adapters practically unnecessary. It has ½ inch outlets to which all standard cables can be connected.
Inlets from below! The GROHE Rapido SmartBox is equipped with inlets to be connected from below, which allow a direct connection to the hot and cold water supply. The use of 90-degree fittings is a thing of the past.
Subsequent adjustment by 6 degrees is possible! Thanks to the long holes in the functional unit, GROHE wall plates can be adjusted by up to 6 degrees and can be aligned perfectly with tiles and joints.
Fits into every wall! With an installation depth of only 75 mm, the GROHE Rapido SmartBox fits into every kind of wall, even particularly narrow ones.
Standards compliant! The GROHE Rapido SmartBox can be retrofitted with a safety protection against backflow.
Easy job-side installation! Thanks to the handy brass outlets, the connection to the pipes can be installed with the help of a pipe wrench so that the mounting on-site can be carried out fast and easily. A bench vice is not necessary.
Distributed by APO Group on behalf of GROHE.
Media contact:
Lina Varytimidou
Varytimidou@GroME.com
About GROHE:
GROHE (www.GROHE.com) is the world's leading provider of sanitary fittings and a global brand, dedicated to providing innovative water products. For many decades, GROHE has been committed to the brand values of technology, quality, design and sustainability that all illustrate GROHE's commitment to creating exceptional experiences and to delivering "Pure Freude an Wasser". With its engineering, innovation and design activities firmly anchored in Germany, GROHE products bear the badge of quality "Made in Germany", ultimately strengthening the customers' confidence in the brand. All plants of the GROHE manufacturing network make use of high-precision production engineering to ensure compliance with consistently high GROHE standards. This way GROHE ensures that its products live up to the most uncompromising demands in terms of workmanship and functionality. Over the past ten years alone, the success of GROHE has been confirmed by more than 280 design and innovation awards as well as several top rankings as one of "Germany's most sustainable major companies". Numerous high-profile projects around the globe are fitted with GROHE products, testifying to architects', designers' and developers' preference for the brand. GROHE is part of the LIXIL Group Corporation, a publicly listed company on the Tokyo Stock Exchange. LIXIL is the global market leader in the sanitary ware industry, managing a broad portfolio of well-known household brands such as GROHE, American Standard, and INAX. It is also Japan's leading provider of housing and building materials, products and services.
About LIXIL
LIXIL Corporation (www.LIXIL.com) is a global leader in housing and building materials products and services. The foundation of LIXIL's success is our constant investment in technological innovation to improve the way we live. Delivering core strengths in water, housing, building and kitchen technologies, our brand portfolio businesses LIXIL, GROHE, American Standard Brands and Permasteelisa are leaders in the industries and regions in which they operate. LIXIL produces some of the world's most fundamental and innovative products and services, and our solutions are an integral part of some of the world's most iconic and cutting-edge living and working spaces. Operating in more than 150 countries, and employing more than 80,000 people, we bring together function, quality and design to make people's lives better, and more delightful – wherever they are. Learn more at Lixil.com (www.LIXIL.com), Facebook.com/LixilGroup (http://APO.af/7K3JD9) and Linkedin.com/Company/Lixil-Group (http://APO.af/u8mU5B).