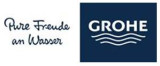 Multimedia content

Images

(6)

SmartControl GROHE (1)
SmartControl GROHE (2)
SmartControl GROHE (3)
SmartControl GROHE (4)
SmartControl GROHE (5)
SmartControl GROHE (6)
Source: GROHE |
Grohe's smart and intuitive technologies revolutionise the shower experience
At its heart is the combined push-and-turn technology which gives users finger-tip control of the head and hand shower's different spray patterns, while allowing control of the water flow rate by rotating the buttons
GROHE SmartControl is packed with German technology and manufactured to the very highest standards of German workmanship
LAGOS, Nigeria, July 10, 2017/APO/ --
Extension of the popular GROHE SmartControl line
Intuitive push-and-turn buttons for perfect water control and a personalised shower experience
Great variety of design options for any bathroom décor
Immersing oneself in a new dimension of showering – this is what GROHE (www.GROHE.com) SmartControl is all about. Grohe's "Push, Turn, Shower" experience has become even more multifaceted thanks to new models and combination options being added to this popular line of smart shower controls. In addition to the stylish on-the-wall model, the expanded range will also include a model for concealed behind-the-wall installation. Moreover, the spray faces as well as the SmartControl concealed units are optionally available in trendy white. As a result, the intuitive push-and-turn control system now offers an even greater variety of design options – for the perfect shower experience every time.
Smart and intuitive
GROHE SmartControl is packed with German technology and manufactured to the very highest standards of German workmanship, as encapsulated in the label "Made in Germany". At its heart is the combined push-and-turn technology which gives users finger-tip control of the head and hand shower's different spray patterns, while allowing control of the water flow rate by rotating the buttons. The intuitive operation is aided by unambiguous pictographs. When the water is switched off, the system automatically memorises the chosen flow rate until the water is switched on again. For a truly personalised shower experience that pampers the whole body, the generously dimensioned GROHE Rainshower 360 Duo head shower combines the gentle GROHE PureRain or GROHE Rain O2 spray with the energising TrioMassage setting. The shower session for all the senses is completed by the GROHE Power&Soul hand shower for freely targeted showering action. GROHE CoolTouch technology protects against scalding by preventing the chrome surfaces from heating up.
Only recently the GROHE SmartControl shower system garnered the Green Good Design Award for its combination of stylish design and intuitive flow rate control. Entries to this award – organised by the Chicago Athenaeum: Museum of Architecture and Design in conjunction with the European Centre for Architecture Art Design and Urban Studies – are rated not only on their design but also on such aspects as energy consumption, environmental friendliness and resource conservation.
Exposed or concealed
The right design for every bathroom – customers and experts have been greatly impressed with GROHE SmartControl ever since the launch of this modern shower system. Now GROHE has developed two new versions. The first combines the key benefits of concealed and exposed shower systems: the water pipe is neatly concealed in the wall but the shower control unit remains exposed, doubling as a convenient shelf for shower gels and accessories. The second new version, SmartControl Concealed, is even more elegant. While using the same self-explanatory push-and-turn buttons, it features a very low-profile minimalist design. As usual, GROHE offers the new versions in a great variety of options. Available in square and round designs as well as in chrome or white finishes, the new shower control system is an optimum solution for any bathroom ambience and for any installation point. Moreover, the XXL-sized Mono head shower is now also sold separately.
Coordinated or contrasting
The latest additions to this popular line gives shower aficionados even greater freedom in designing their bathroom. In particular, the shower faces on the head showers as well as the concealed fittings are now available not only in the popular chrome finish but also in trendy white. This allows for visual coordination with the hand shower, which also features a white shower face. Alternatively, the chrome versions can be used to create exciting contrasts – another possibility to reflect the user's personal style in the design of their bathroom.
Distributed by APO Group on behalf of GROHE.
For media inquiries please contact:
Lina Varytimidou
Varytimidou@GroME.com
About GROHE:
GROHE (www.GROHE.com) is the world's leading provider of sanitary fittings and a global brand, dedicated to providing innovative water products. For many decades, GROHE has been committed to the brand values of technology, quality, design and sustainability that all illustrate GROHE's commitment to creating exceptional experiences and to delivering "Pure Freude an Wasser". With its engineering, innovation and design activities firmly anchored in Germany, GROHE products bear the badge of quality "Made in Germany", ultimately strengthening the customers' confidence in the brand. All plants of the GROHE manufacturing network make use of high-precision production engineering to ensure compliance with consistently high GROHE standards. This way GROHE ensures that its products live up to the most uncompromising demands in terms of workmanship and functionality. Over the past ten years alone, the success of GROHE has been confirmed by more than 240 design and innovation awards as well as several top rankings as one of "Germany's most sustainable major companies". Numerous high-profile projects around the globe are fitted with GROHE products, testifying to architects', designers' and developers' preference for the brand. GROHE is part of the LIXIL Group Corporation, a publicly listed company on the Tokyo Stock Exchange. LIXIL is the global market leader in the sanitary ware industry, managing a broad portfolio of well-known household brands such as GROHE, American Standard, and INAX. It is also Japan's leading provider of housing and building materials, products and services.
About LIXIL:
LIXIL (www.LIXIL.com) is the most comprehensive and connected global company in the housing and building industry, delivering human-centric innovation that enhances people's living spaces – we call this Living Technology. Delivering core strengths in water, housing, building and kitchen technologies, our brands including LIXIL®, GROHE®, American Standard Brands, DXV, INAX® and Permasteelisa® are leaders in their industries and regions. Operating in more than 150 countries and employing more than 80,000 people, we bring together function, quality and design to provide better living solutions to the world today and for future generations. Learn more at www.LIXIL.com and follow us at www.Facebook.com/lixilgroup.