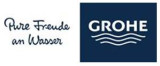 Multimedia content

Images

(6)

Tempesta 210
Tempesta 210
Tempesta 210
Euphoria 260
Euphoria 260
Euphoria 260
Source: GROHE |
Upscaling the shower experience: New attractive large-diameter head showers from GROHE
The new Tempesta and Euphoria head showers have not only grown in size but are also distinguished by a sleek Contemporary Design style and a completely chrome-plated spray face
The two new head showers are equipped with a ball joint which makes them compatible with standard shower arms
LAGOS, Nigeria, July 24, 2017/APO/ --
New large-diameter head showers for entry-level and medium-price segments
SmartControl function for convenient control of Euphoria head shower
Sleek Contemporary Design style with chrome plated spray faces
The larger the head shower, the greater the shower experience. To make this kind of luxury accessible to a wider range of consumers, GROHE (www.GROHE.com) now offers large-diameter head showers also in the entry-level and medium-price segments. The new Tempesta and Euphoria head showers have not only grown in size but are also distinguished by a sleek Contemporary Design style and a completely chrome-plated spray face. Manufactured to GROHE's stringent standards of quality at its plant in Lahr, these showers demonstrate what German engineering and German quality – as encapsulated by the label "Made in Germany" – are all about.
Unique offering in the entry-level segment
Created in the manufacturer's Contemporary Design style, the new Tempesta 210 head shower is an attractive eye-catcher and chimes with a wide variety of bathroom styles. Its 210mm face projects a rich spray for a satisfying shower experience. Inside the shower, GROHE DreamSpray technology maintains the precision of the spray pattern by distributing water evenly to all nozzles.
Three zones of well-being
This concept is taken into an even greater dimension by the Euphoria 260 with its three-zone design for personalised showering comfort. By simply turning the SmartControl centre button, the user can adjust the spray from a powerful and concentrated jet, which is perfect for rinsing out shampoo, for example, via a wider spray for an energising yet relaxing effect, to a soft and wide rain shower for genuine full body coverage
Simple upgrading
The two new head showers are equipped with a ball joint which makes them compatible with standard shower arms. This allows the upgrading of existing showers without any major work. Tempesta 210 and Euphoria 260 are available both on their own and as kits complete with a shower arm. GROHE plans to include the two new head showers in many of its shower systems, promising even greater shower experiences going forward.
Distributed by APO Group on behalf of GROHE.
For media inquiries please contact:
Lina Varytimidou
Varytimidou@GroME.com
About GROHE:
GROHE (www.GROHE.com) is the world's leading provider of sanitary fittings and a global brand, dedicated to providing innovative water products. For many decades, GROHE has been committed to the brand values of technology, quality, design and sustainability that all illustrate GROHE's commitment to creating exceptional experiences and to delivering "Pure Freude an Wasser". With its engineering, innovation and design activities firmly anchored in Germany, GROHE products bear the badge of quality "Made in Germany", ultimately strengthening the customers' confidence in the brand. All plants of the GROHE manufacturing network make use of high-precision production engineering to ensure compliance with consistently high GROHE standards. This way GROHE ensures that its products live up to the most uncompromising demands in terms of workmanship and functionality. Over the past ten years alone, the success of GROHE has been confirmed by more than 240 design and innovation awards as well as several top rankings as one of "Germany's most sustainable major companies". Numerous high-profile projects around the globe are fitted with GROHE products, testifying to architects', designers' and developers' preference for the brand. GROHE is part of the LIXIL Group Corporation, a publicly listed company on the Tokyo Stock Exchange. LIXIL is the global market leader in the sanitary ware industry, managing a broad portfolio of well-known household brands such as GROHE, American Standard, and INAX. It is also Japan's leading provider of housing and building materials, products and services.
About LIXIL:
LIXIL (www.LIXIL.com) is the most comprehensive and connected global company in the housing and building industry, delivering human-centric innovation that enhances people's living spaces – we call this Living Technology. Delivering core strengths in water, housing, building and kitchen technologies, our brands including LIXIL®, GROHE®, American Standard Brands, DXV, INAX® and Permasteelisa® are leaders in their industries and regions. Operating in more than 150 countries and employing more than 80,000 people, we bring together function, quality and design to provide better living solutions to the world today and for future generations. Learn more at www.LIXIL.com and follow us at www.Facebook.com/lixilgroup.